Source: World Market
What if we told you that you could buy something decorative, quirky and fun to place on your kitchen or dining room table that doesn't need washing time after time? The easiest way to add glamour to your dinner table and protect surfaces from getting damaged is by using TRIVETS. Making the tops of kitchen, tables and bathroom counters look artistic and well-maintained is as important as its utility. So, exactly what is a trivet?
Purpose of a Trivet
Source: Totally Bamboo
A cooking trivet, often known as a hot pad is a serving plate that should be placed under hot dishes to protect your tables or any other surfaces from getting damaged by the heat of the dishes. It's a necessity in your collection of kitchen tools. A trivet must always add to the aesthetics of your dinner table for making the food look enticing.
You may have come across a version of decorative kitchen trivets in your Grandma's box of antique pieces. When selecting trivets for hot dishes you have a lot of choices in the kind of material and designs used to make them. Dining table trivets could be made out of ceramic, glass, steel, cork etc.
Source: coolshop
Glass trivets look beautiful but they are not capable of handling too much heat and end up cracking when an extremely hot utensil is placed on it. Moreover, if something like gravy or sauce drops on the surface of the glass trivet, it gets hard to remove the stain completely and the glass loses its gloss. Steel trivets can handle a lot of heat from the dishes but being heat conductors, they also end up getting hot.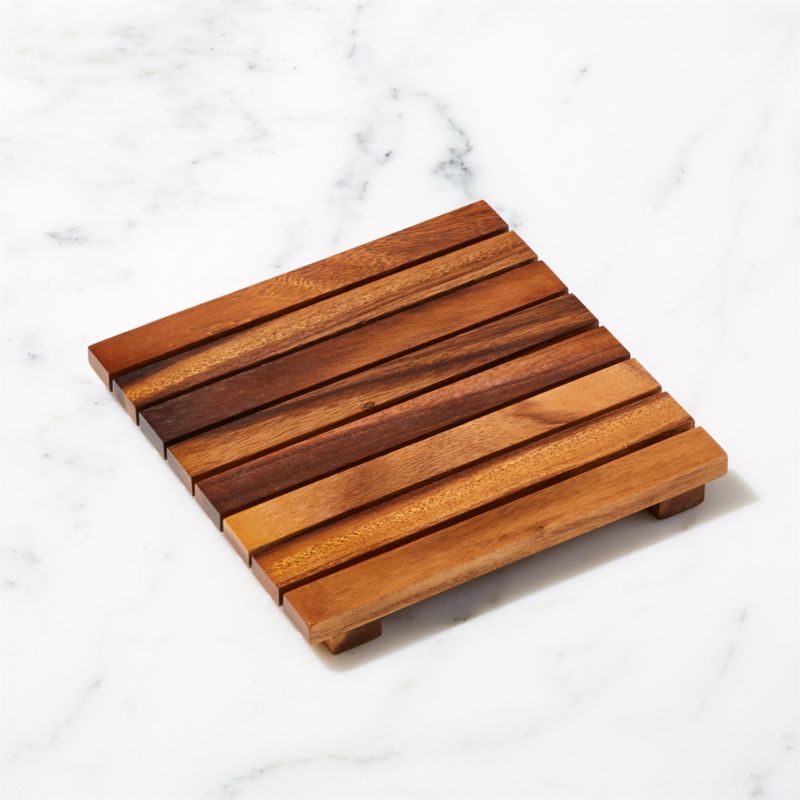 Source: CrateandBarrel.com
Cork and wooden trivets are capable of handling a great amount of heat. Although, they're porous which leads to absorption of oils and reaction to acidic liquids. The design possibilities with wood and cork matching different kinds of décor of the kitchen, dining room and washrooms are very few.
Ceramic TRIVETS are a homemaker's first choice
Ceramic Trivets are a stylish compliment to any kitchen, dining room or washroom. Trivets are made of durable ceramic and are footed with cork to prevent slipping and scratching on tables. The decorative kitchen trivets surely add an element of character to the kitchen and keep your guests admire your choice.
The ceramic Trivets found at Indiavaale come with beautiful hand-painted designs and attractive color co-ordination that sits well with any kind of décor especially for modern houses that like to add a rustic feel to their homes. Not only do they prevent surfaces from getting stained, but they also act as practical decorative kitchen trivets. At Indiavaale, the handmade ceramic trivets are skillfully designed by rural artisans who have kept our Indian arts and traditions alive. Today people are looking for ways to connect back to their roots and these handicrafts allow them to feel that they are still connected to the Indian traditions. Your kitchen counter or dinner table will thank you for getting one of Indiavaale's beautiful decorative ceramic trivets with a contemporary twist winning praise from your guests for your great taste.
The handmade ceramic trivets from Indiavaale will not only up to your serving game, but it may also even inspire a gift or two for the festive or wedding season and other occasions. Now that everything you wish for is available online, why not these handcrafted kitchen accessories? Buy trivets online from Indiavaale and be assured of its design, quality, and endurance.
Make your dining table look grand with trivets from Indiavaale.